The five keys to choosing a safe accommodation against COVID-19
Pio XII Apartments
30/07/2020
When it comes to choosing a safe accommodation to rest this summer, we have more doubts than in other years. We are immersed in the new normal, learning to live in it, and establishments that comply with all the rules derived from this situation are demanded. Thus, the five main keys to choosing a safe accommodation against COVID-19 are fundamental. These five principles cover the
safety of the clients and that of the hotel establishment team itself
, whether or not it is in contact with the guests, as it will handle surfaces or items that could be shared.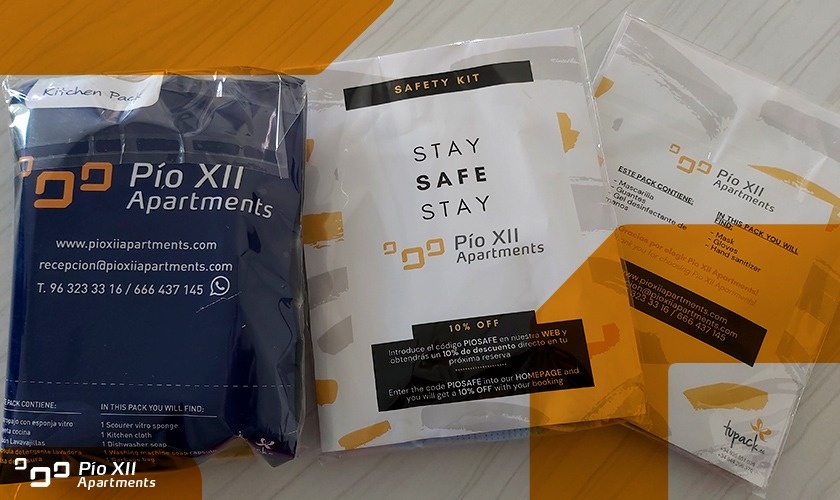 What are the five keys to choosing a safe accommodation against COVID-19?
1.
Existence of a security protocol
. The responsible management of a hotel establishment implies a review and modification of the operating procedures in any activity, from dealing with guests to cleaning the rooms.
2.
Risk prevention methodology
, specifically designed for the type of establishment in which it is applied. It must be personalized and effective.
3.
Review of the procedures and measures adopted by the suppliers
to guarantee the correct performance of their functions.
4.
Staff training in POSI procedures (Prevention of Spread of Infections)
to guarantee their safety and that of guests.
5.
Crisis cabinet
with instructions to follow if a possible case of coronavirus is suspected.
At Pio XII Apartments our priority is safety so that all our guests enjoy their stay as if they were at home, in a risk-free environment.
The methodology we have adopted to develop our protocol involves suppliers, team and clients. With it we follow the lives of our guests from the moment they contact us to make their reservation until the end of their stay. Our goal is to prevent the spread of diseases, both from person to person and through the environment (by contact with surfaces and in areas with greater traffic).
What measures make Pío XII Apartments a safe accommodation?
•
RESERVATIONS.
In each reservation the client receives detailed documentation on the standard protocol against COVID-19. We must not lower our guard and it should be remembered that we have a joint responsibility to stop the virus.
•
CHECK IN.
It is carried out between the reception staff and the client separated by a screen, which houses a small slot for the transfer of documentation. Payment by bank card prevails and the elements used in this process: POS, pens, etc., are disinfected after each use. The key, previously disinfected, is delivered in a closed transparent envelope.
•
ELEVATORS.
They are disinfected twice a day, first thing in the morning and in the afternoon. Inside each one of them there will be an optical hydroalcoholic gel dispenser, as well as an information poster with the protocol measures established in the establishment. • OTHER COMMON AREAS and hallways on the floor: railings, knobs, switches ... are disinfected twice a day, first thing in the morning and before the end of the cleaning service.
•
APARTMENTS:
They are delivered fully disinfected for use. During the stay, you can request the change of sheets and towels at our reception, guaranteeing the safety of the client and staff for their delivery.
With each apartment, the
Safe Pack
(a mask kit, gloves and hydroalcoholic gel for each tenant) and the
Kitchen Pack
(which includes a scouring pad with vitro sponge, kitchen cloth, dish soap, washing machine detergent capsule and garbage bag are provided with each apartment ).
•
BED LINEN AND LINGERIE:
It is delivered disinfected directly from the laundry, from where it is transported in disinfected trolleys covered by a canvas. We have developed specific disinfection protocols with hygienic controls throughout the process. Thus we guarantee that all garments are free from any type of bacteriological contamination.
•
CHECK OUT.
The keys are returned in a mailbox for further processing. Until delivery to a new host, they are disinfected and stored in a transparent envelope to keep them in an aseptic environment.
•
SUPPLIERS AND STAFF TRAINED
in COVID-19 prevention and in the specific protocol developed for Pío XII Apartments.
All these measures, duly agreed upon, and verified, make our apartments the safe and comfortable place that they have always been. Nor have we forgotten to monitor the disinfection protocol of the providers of our complementary services:
•
MOBILITY SERVICES.
MyRentGo with rental of bicycles, electric bicycles, scooters or cars, complies with all the pertinent disinfection measures for their vehicles.
•
BREAKFAST.
Customers who have booked their stay with breakfast enjoy it in the two restaurants with which we collaborate throughout the year (Ristretto and El Raconet), places that comply with all the recommendations established by the Ministry of Health. In addition, if due to the changing situation it is not possible to enjoy a stay with us, cancellations are free and, unless the non-refundable rate is chosen, it is not paid until you arrive at our facilities. Once here, you just have to dedicate yourself to enjoying a city with as many cultural and leisure offers as Valencia.
Comments